About Raven Recycling

Founded by Guy Boitos and Chris Richard, Raven Recycling has a combined total of 55 years experience in the automotive recycling industry. Raven Recycling specializes in scrap metal management for industrial clients across the United States.
Raven Recycling has developed innovative recycling solutions that can be implemented within any organization. Every Raven Recycling customer has unique requirements and for that reason, we take a professional and consultative approach to each of our customer relationships. At program commencement, our team conducts a total operational assessment. We evaluate scrap volumes, commodity classifications, material handling and Plant complexity. This review often leads to recommended flow, segregation and other logistical improvements, all aimed at helping customers reduce operating expenses while enhancing the value of their scrap.
In addition, we conduct regularly scheduled follow-up meetings to facilitate continuous improvement. Also, as new technology becomes available, economic conditions change, or customer's businesses evolve, we are always seeking ways to create maximum recycling efficiencies and revenues. Raven Recycling keeps all our customers fully engaged and well-informed about recycling opportunities to enhance the value of your Scrap Metal.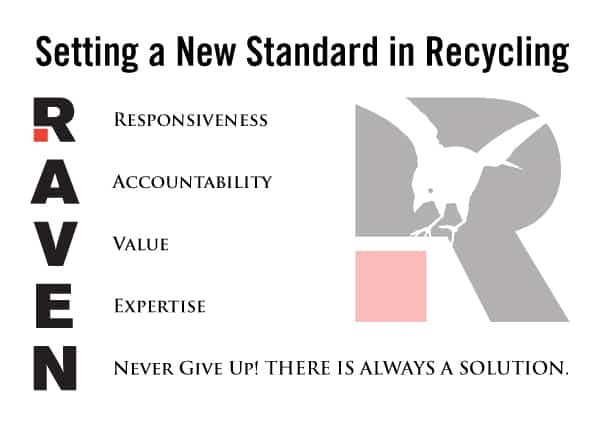 Visit Our Company Philosophy and Products and Services pages
to learn more about who we are and what we do.